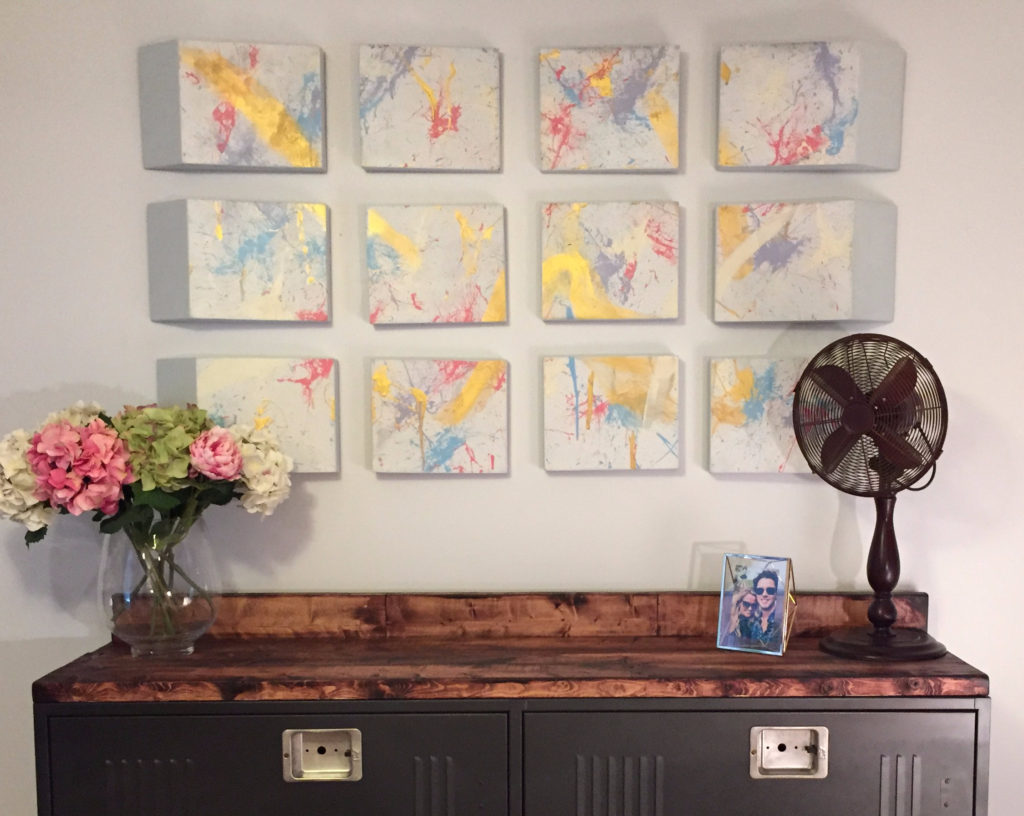 I moved out of my condo in Louisville, KY and I had this large wall collage that I didn't really like BUT I just couldn't leave it because it had potential! So, J reluctantly packed all this up because he knew the torture involved in hanging it a second time. This is actually a super fun project, but be prepared to get messy!
First, stop and get all your supplies. We stopped at Hobby Lobby for assorted acrylic paints. Dollar tree for water balloons and a much needed drop cloth. And, of course, Home Depot for more spray paint!
We started by painting all the canvases back to white and using painters tape to piece it all back together.
Now, be ready for the most messy experience you can imagine. I'm sure there is a better way to do this, but this has to be the most fun! We started filling our water balloons with the acrylic paints, but after you add the paint you have to blow them up! This is dangerous, I took a paint filled balloon to the face! So basically, do NOT overfill the balloons, unless you never want to hear the end of it! We filled 50 water balloons with paint. We did 10 balloons for each of our colors – blue, coral, purple, gold and an off white! After they are full of paint, you're ready to start popping! We used a nail to pop each balloon, but obviously any sharp object will do!
I can assure you, no one wants to see the paint explosion on my face! But this is the up close shot of our work in progress! As you can see we did not spend much time covering the edges with the white primer. We wanted the sides to be a slightly different color, so we again chose Glidden Moonlight Rendezvous. It really makes the painting pop!
Now, for the most stressful part of this project. Get out your levels and start hanging! P.S. If it's not perfect it will bother you more than any of your guests 😉