As most of our friends, family and followers know we bought a house in October. It has been A LOT of work, but we have made amazing progress and are nearing completion! Definitely a lot more photos and details of our renovation coming your way!
My parents conveniently came to visit us on the day we were closing, which basically meant a lot of demolition for James and Dad. These are some before photos of our very closed off galley kitchen.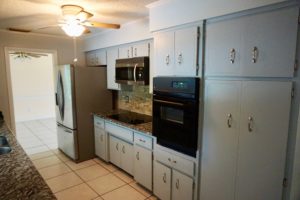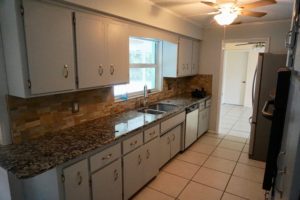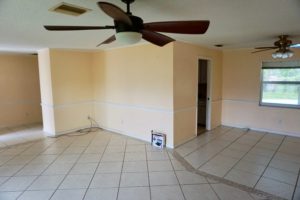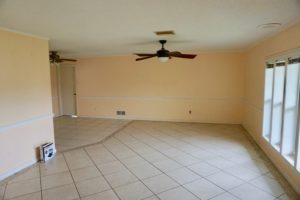 When Dad confirmed that none of the walls were load bearing we decided to take out EVERYTHING.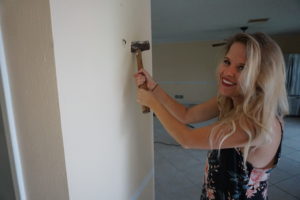 Basically we had a ton of fun and it was incredibly worth it when you see the final results! James, would probably disagree on the fun part. We quickly figured out that the floor throughout the house had 2 layers of tile and 2 layers of linoleum that all needed to come up, so we could put in new floors! Note to self: When buying a house and the ceilings don't quite seem 8ft there's probably more than one layer of flooring. That little half inch makes a BIG difference.
Once we were through demolition, it was time for me to actually be useful in the design process! I enjoyed picking out everything and doing lots of online shopping!  We chose a wood look vinyl product after seeing the mess Pippa and James make after swimming in the pool. It's great for Florida because it's durable against sand from the beach and water from everything from storms to swimming pools.
We bought our cabinets and flooring through ProSource. They were great to work with because they had such a large selection of styles that we liked! The team at ProSource helped us design and model a kitchen for our space and budget. One of the things that really had a big impact on changing our kitchen was removing the soffits. We were able to get taller cabinets and that made the space look larger! If you do this yourself just be cautious of plumbing and electrical that may be running through the soffits. Our cabinets came flat packed and we had them assembled and installed by one of our favorite local contractors. James was VERY happy he didn't have to do this part!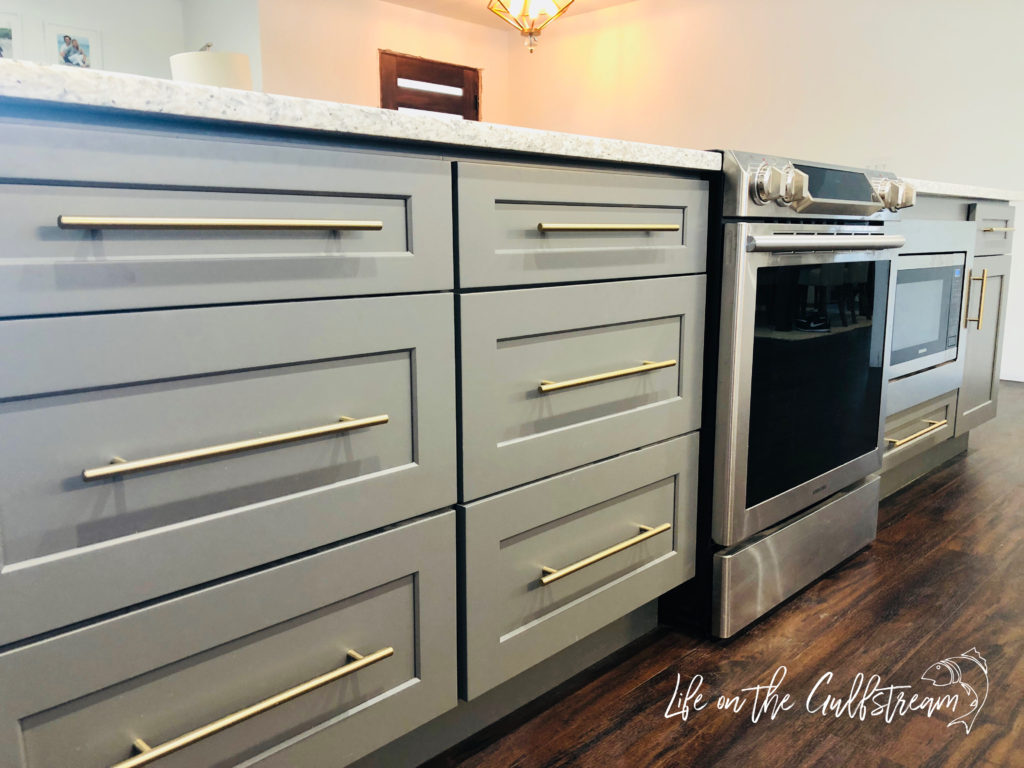 Countertops are a whole different story. Talk about a headache! The island we designed was too large for a single granite slab, unless we wanted a seam. So, we decided to go with quartz. The best pricing we found for quartz was Home Depot and they are constantly running 10-20% promotions on countertops so keep an eye out! We finally decided on Everest by LG Viatera.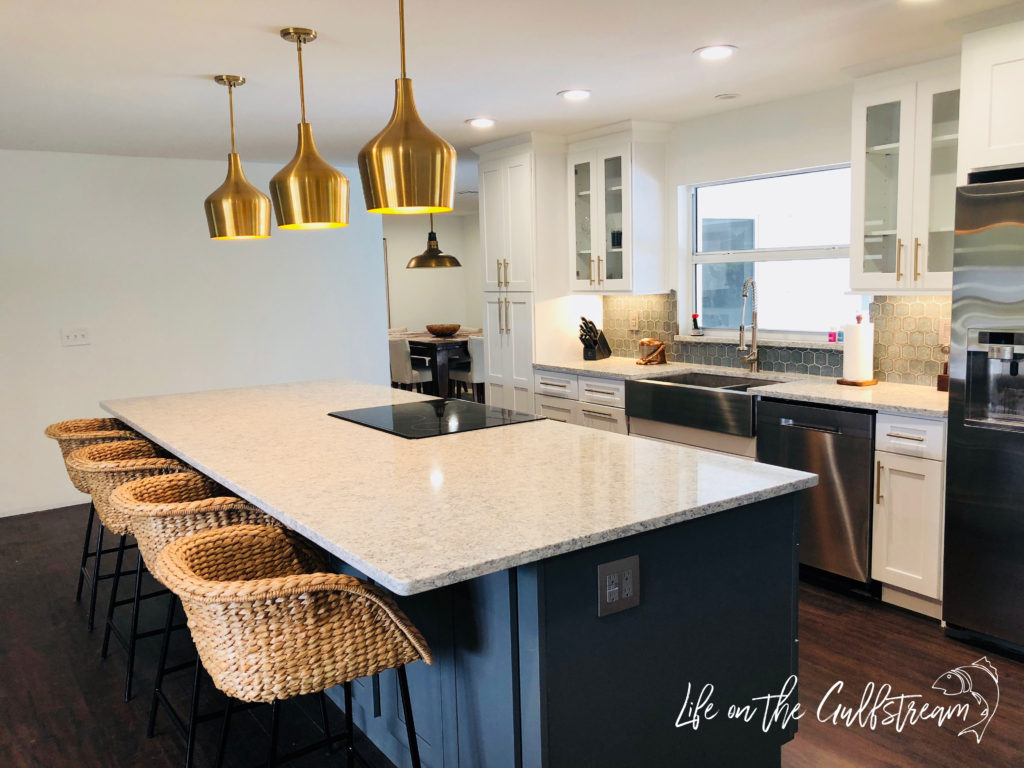 One of our biggest challenges was lighting in the house, so we put recessed cans throughout our home. The more exciting pendant light fixtures are actually from Wayfair. Our barstools are from CB2 and they definitely fit into our beachy surroundings! They were very much worth the two month wait! I l love how much storage our island has. Underneath the barstools are 4 full cabinets for storing things we don't use everyday! Another favorite of mine is that the island electrical outlets match the cabinets! Thank you Home Depot!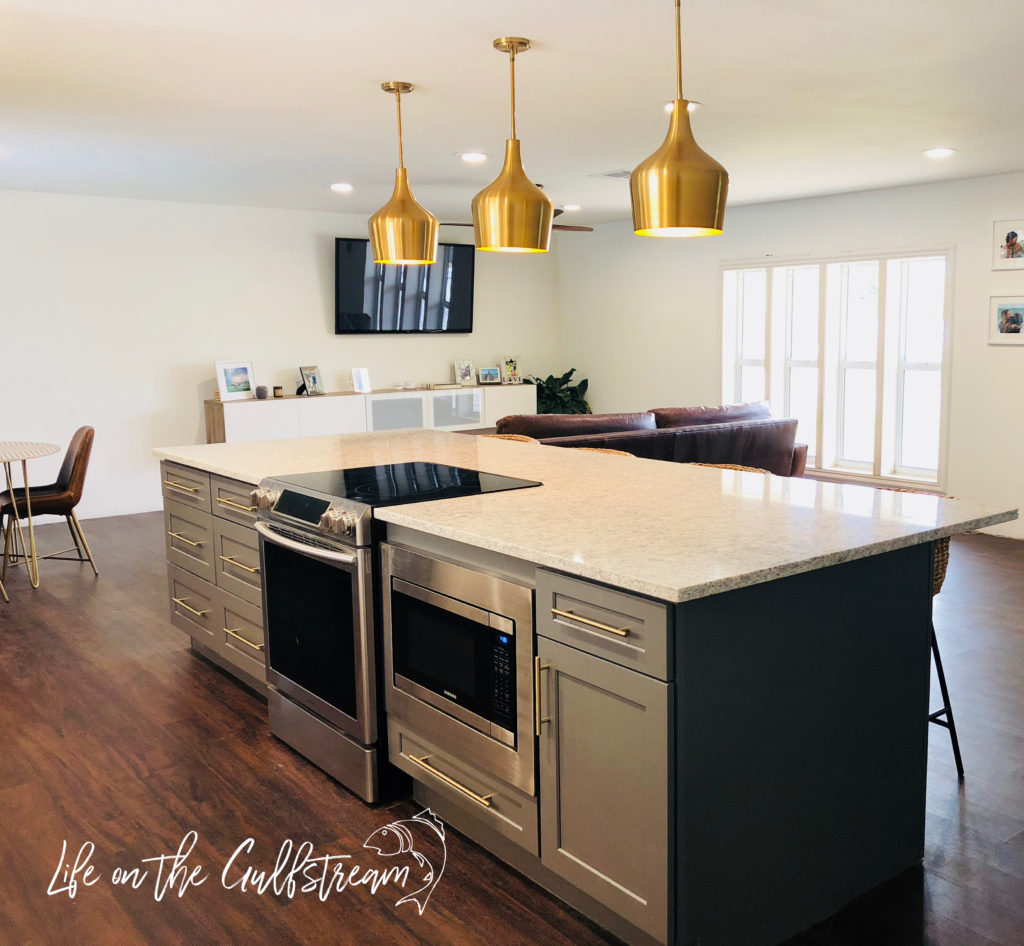 For our appliances we went with Samsung! They were perfectly sleak and at a great price point! Bundling your appliances is definitely the way to go. Best Buy offered a great deal since we were buying them all together and they had a 30 day price match guarantee. We especially love how our microwave is hidden in the island!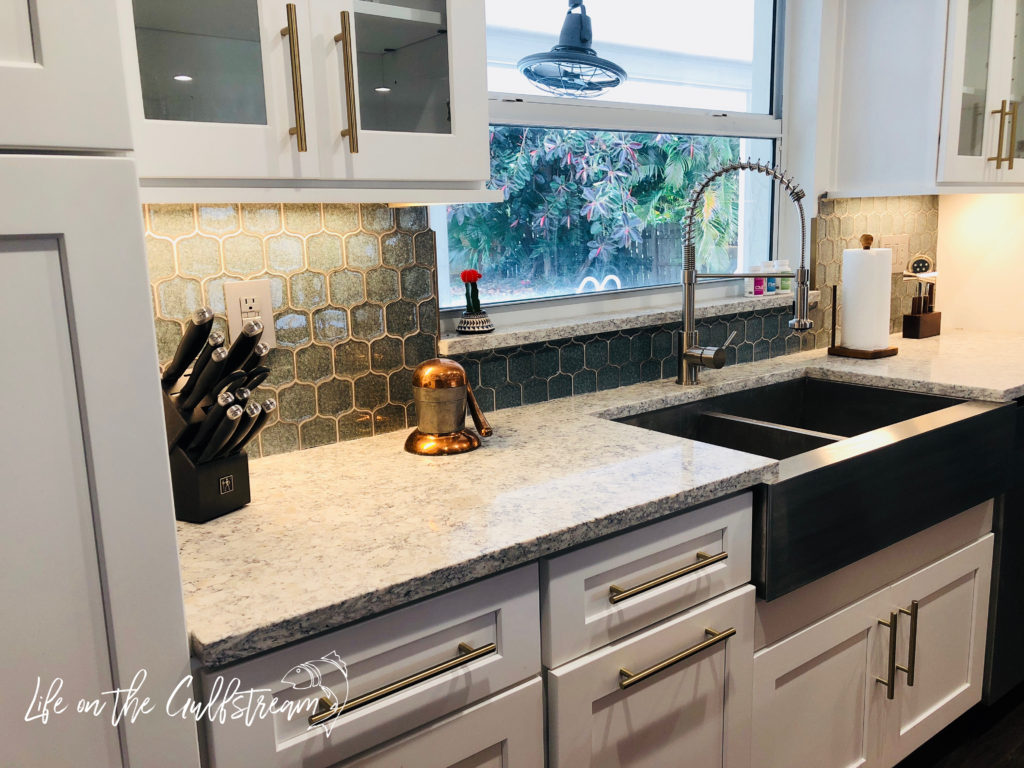 Lastly let's talk about our backsplash and sink! We looked at what feels like a million backsplash options and I just could not decide. But, on one of our almost nightly trips to Lowe's I knew our search was over. This glass tile matched the counters perfectly and had a unique shape which was just what we needed. One of the things we actually get the most compliments on in our house is the sink and faucet! Which I will admit the Hahn faucet is a really high value and feels worth a lot more than $200! Our metal farm sink is from Kohler.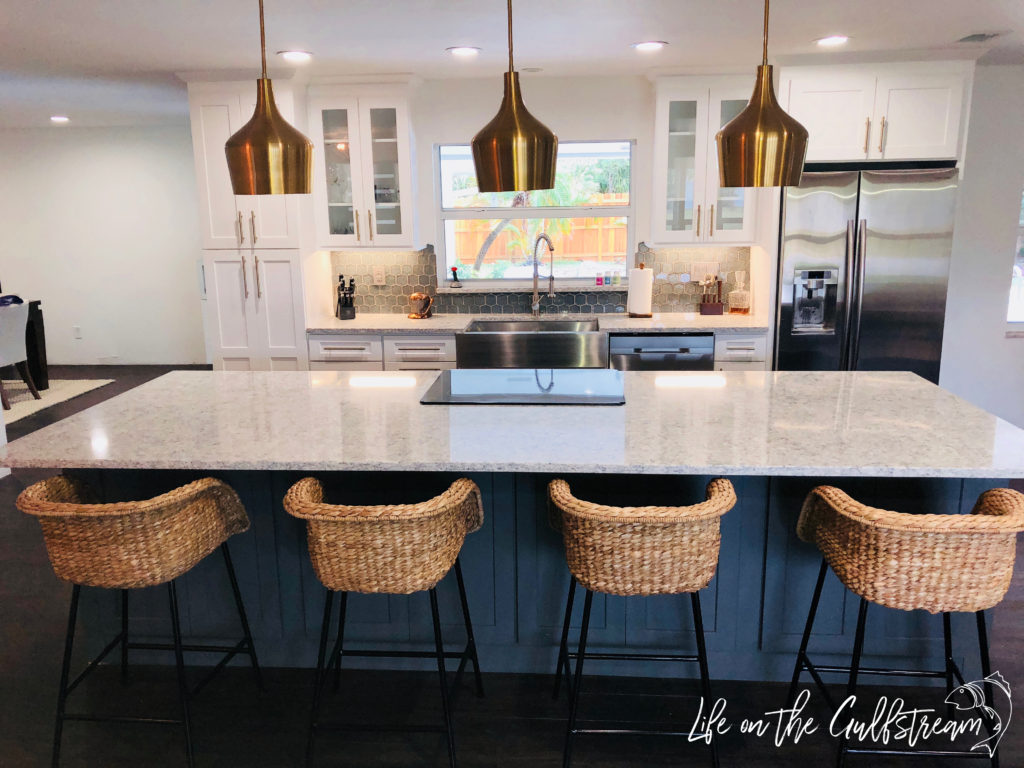 We are really excited to reveal this part of our home to you! We can't wait to share more. I hope you all enjoy our blog and photos! If you are impressed with our work please share with your friends and family! We appreciate all the love and support! If you have any questions about how to do this yourself feel free to comment!