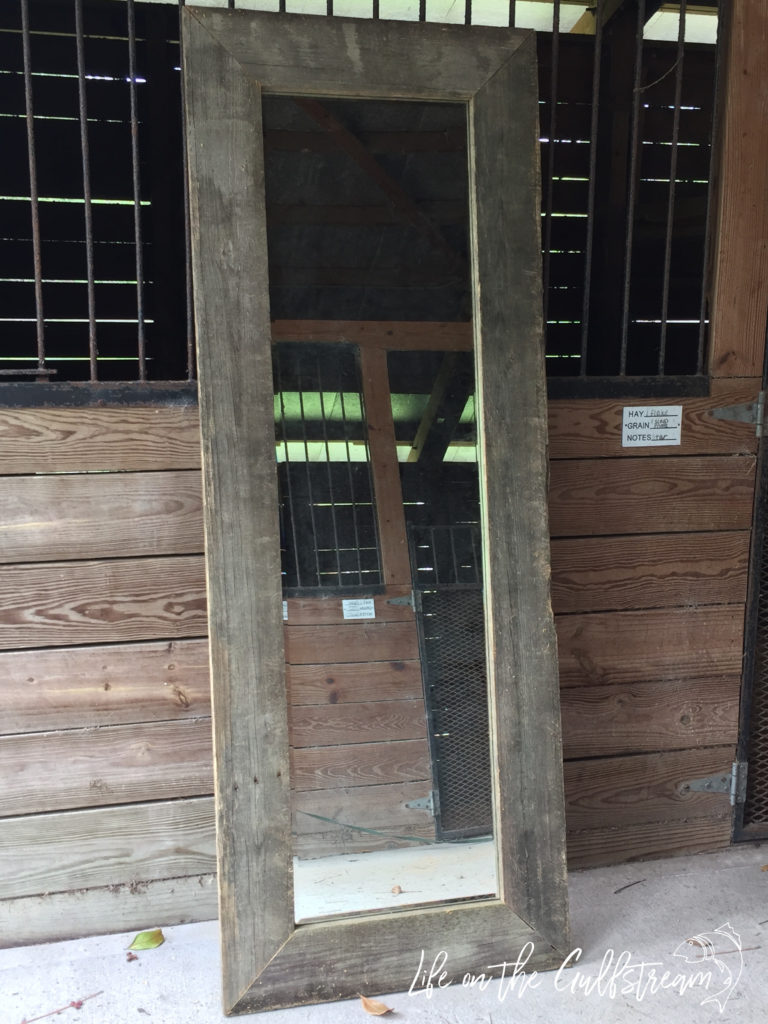 Let's face it, everyone needs a full length mirror! How am I supposed to know what shoes to wear if I can't see my feet? And let's be honest, my previous method of standing on the bathtub checking out the shoes was a little dangerous in heels. So, we started on a hunt for a full length mirror! Much to my surprise ALL mirrors are expensive, big or small! So, imagine my surprise when I found my 6ft tall full length BEVELED mirror at Wildwood Antique Mall here in Melbourne, FL for only $15!! The mirror didn't have a frame, but that was for the best, as I already had my eye on something for this project.
These fence railings aren't being used for horses at the moment, so I figured it wouldn't hurt to borrow a couple for a project! After all, the horses will be happy to have some new railing to chew on! The only thing we had to pick up at Home Depot this trip was a sheet of hardboard composite for the frame backing.
We decided because of the bevel on our mirror it would be worth our time to do a mitered frame. Our mirror measured 68in x 18in, so we got out our tape measure and started marking up the frame. A framing square is almost a necessity for this project! I'm still not exactly trusted with the power tools, so here's a nice pic of J making the cut!
We got all of our wood cut how we wanted it and started to lay it out. Basically, we were just banking on good measuring skills to ensure the mirror fit and the miters joined together correctly! But I would highly suggest that you all try the mirror in the frame, because it takes almost no time!
We were happy with the rough fit and decided it was time to put the frame together with some pocket hole screws! Then we put our hardboard backing on the frame to hold the mirror in place. We got lucky with a perfect fit and did not require any adhesive. But, if you are going to use an adhesive I suggest silicone – definitely not liquid nails as it can affect the quality of the mirror.
This was a very simple DIY project and can be completed in just a couple of hours and repurposing an old mirror can save you a lot of money! I hope you enjoyed this project! Please follow along and share with your friends!