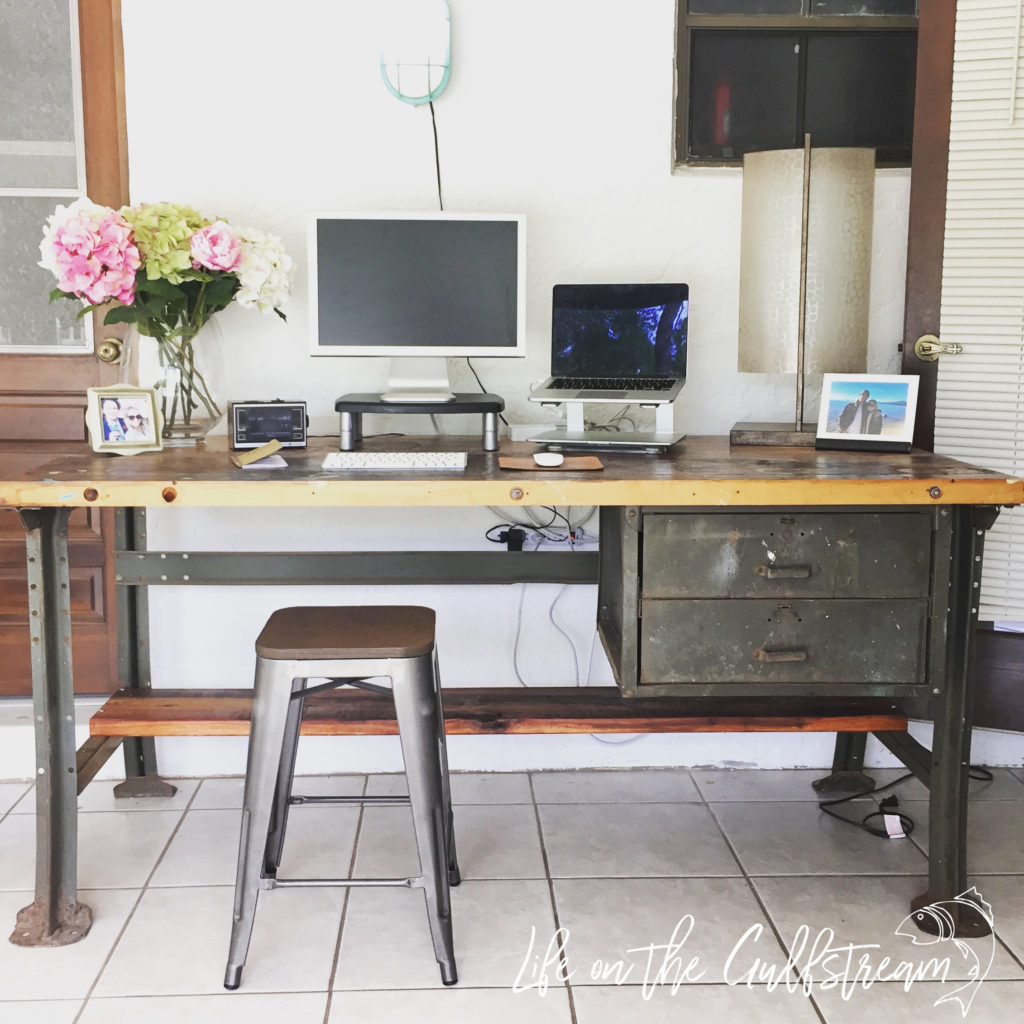 Back to the blog today with another one of our favorite projects, they just keep getting better! Sorry for the delay – James has been busy working and I took a girls trip to NYC! Since we moved to Florida, James' Nana kept talking about this workbench we really needed to pick up and move out of her garage. The workbench was actually in the garage of the house when she moved there, so it's at least 40 years old. There was a slight problem though, there was a ton of stuff packed on and around the workbench. Not to mention it also weighs A LOT. So, one day Pip and I got dropped off at the beach while he went to load everything up – yes we're spoiled! 
When we got picked up at the beach I finally saw the workbench in the back of the truck. It was in pretty rough shape. The legs were bent, the drawers weren't even close to shutting, and well the bottom rung was just barely hanging on. We didn't really know if we could fix it, but we were sure going to try!
We started off trying to straighten out the drawers, which meant that whole section had to be disassembled and a lot of hammering to get everything straight. That part was actually easier than expected and the drawers were working again!
Next, let's talk about that front right leg. What the heck can make metal bend like that?! I have no idea. We tried a lot of different things to get that straightened out. We started with just a hammer, but that was a no go. Then we tried heating the metal with a blow torch and then hammering which just created a lot of sparks and really didn't help. Finally, James remembered he had a 5lb sledge hammer and after about 20 min with that we had finally achieved a leg that we were happy with. We actually did this with all the legs, but that one is most noticeable in the pic 🙂
Another eye sore on the workbench was the bottom shelf/rung. It was incredibly bent. We really wanted to keep the desk as original as possible, however that piece was just a lost cause. We chose a distressed wood to serve as the replacement and it worked well with the butcher block top! We knew no matter our best effort we would never be able to match the actual character of the butcher block on top. 
You can see how much work was actually done here. Remnants of paint cans, ink, tape, etc. It's incredible how the top almost tells a story. We really wanted to keep this original. So, we did a pretty deep cleaning on it before finishing it with a wood lacquer spray. After 3 coats of the lacquer we were very happy with the finish! 
As you can see we loved the outcome of this project so much we actually moved our old desk out and the "new" workbench in. It fits perfectly in our home and we love the story associated with it.