Getting a nice camera is probably the best decision we've made on this blogging adventure. Be prepared to see a major improvement in our photo quality! We recently purchased a Sony a5100 on Amazon and could not be happier! The best news – our credit card points paid for the whole camera! (Fun tip – If you have a USPS change of address you can get a $50 credit on Amazon prime; Hello, FREE memory card!). We will have another blog post with camera tips and tricks soon!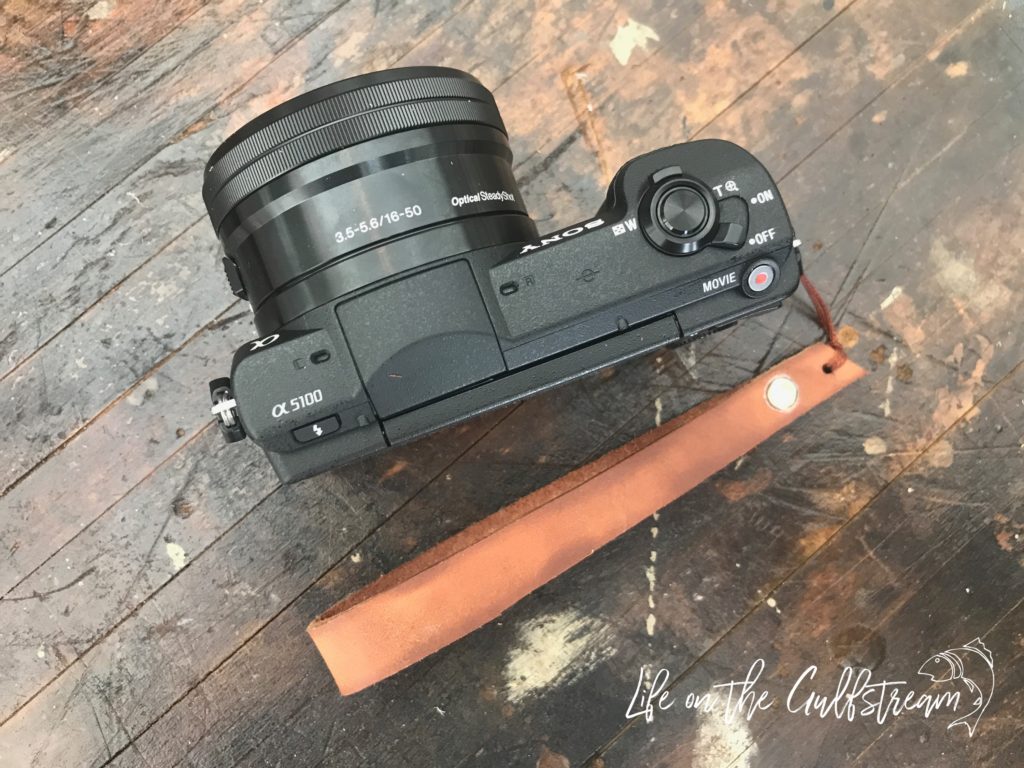 When our camera arrived we were super excited to use it. I think James checked for the UPS guy at least 20 times that day. He usually comes around lunch, but of course since we were anxiously waiting it arrived at 7pm. We played with it for a couple of hours, but soon realized we wanted a camera strap. James, having so many talents, already had leather scraps we could use for a wristband. This project took about 15 minutes.
Here are the materials you need for the project:
We started by cutting the leather to desired length using a utility knife. Remember it is going to form a loop around your wrist, so make sure it is long enough! Fold the leather on itself and make sure the ends line up how you like. You could make them straight across or use the V shape like us! Once the leather is lined up end to end, mark your holes with a pen. Use the leather hole punch to make 2 holes, one will be for your rivet and the other will be the hole for the string to connect strap to camera. Place your rivet in hole #1 and hammer it down to ensure that it's tight! Next, tie your waxed nylon thread into a circle searing off the ends with a flame. Push the loop through hole #2 and feed it back into itself. Use the same step when attaching it to the camera. We added coconut oil and Carnauba cream to give our leather a nice finish color! We have made a video tutorial to make the instructions a little more clear!
Thanks for checking out the blog today and check back frequently for more fun project ideas! If you liked this project please help us out by sharing with your friends on social media, any platform is great (Pinterest, Facebook, Instagram, YouTube)! We love to hear your feedback, so leave us comments if you have any questions!